The internet is full of free and freemium SEO audit tools. I have a bookmark bar full of links to tools to look at the technical, content, and off-site metrics for a page. When I audit a page or a website, I am constantly copying and pasting URLs into these tools to get that audit data. This can be a pain in the butt sometimes. While it is a simple task, I thought there should be a stress-free way to do this. What if my bookmarks copy and paste the URL for me. This is the basis for what the Quick Click SEO Audit Chrome Extension was built on.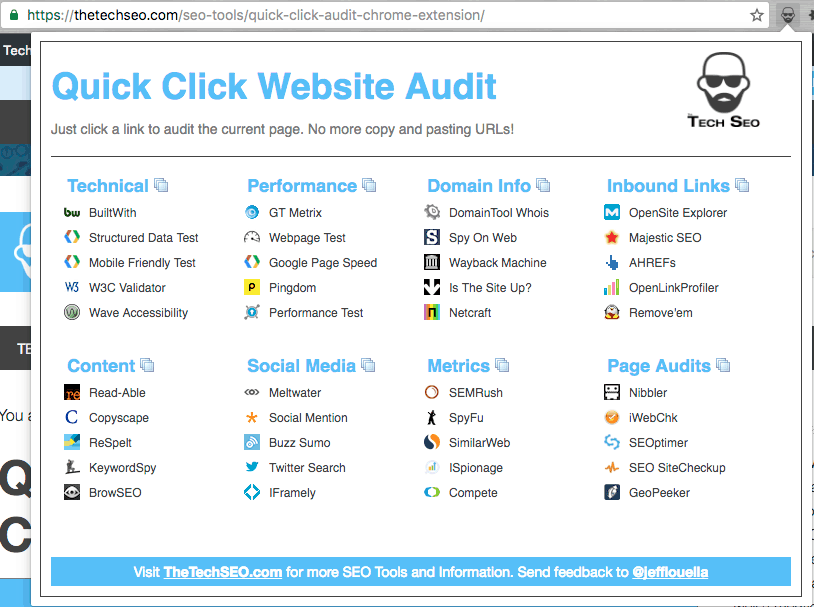 How The Extension Works
It is pretty simple.
Browse to a page you would like to audit.
Click the Tech SEO Quick Click Logo at the top right of your browser. The extension will pop-up.
Click the link to the tool you want to run an SEO audit. A new page will open and run the tool with the URL of the page pre-populated.
The Current List of Tools Included
Technical
BuiltWith
Structured Data Test
Mobile Friendly Test
W3C Validator – Just Removed to make room for the AMP tool.

*New

– Google's AMP Testing Tool
Wave Accessibility
Performance
GT Metrix
Webpage Test
Google Page Speed
Google Mobile Speed
Performance Test
Domain Info
DomainTool Whois
Spy On Web
Wayback Machine
Is The Site Up?
Netcraft
Inbound Links
OpenSite Explorer
Majestic SEO
AHREFs
OpenLinkProfiler
Remove'em
Content
Read-Able
Copyscape
Typosaurus
SE Rank
BrowSEO
Social Media
Open Graph Check
Social Mention
Buzz Sumo
Twitter Search
IFramely
Metrics
SEMRush
SpyFu
SimilarWeb
ISpionage
Site Profiler
Page Audits
Sucuri Malware
iWebChk
SEOptimer
SEO SiteCheckup
GeoPeeker